Sharp Leto Bamboo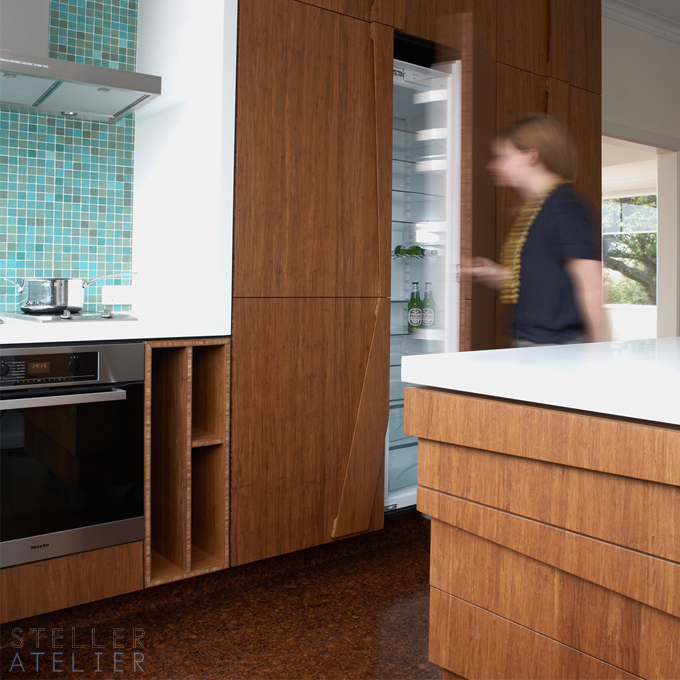 Bamboo is known as a giant grass and therefore doesn't require re-planting after harvesting because the root system stays in place and produces new growth with each season. Because bamboo is known as a grass and not a tree, which takes longer to grow and mature, it doesn't come under the scrutiny of the FSC organisation.
Did you know that bamboo harbours up to three times more carbon than a tree due to its re-growth ability!
Bamboo is bio-degradable, therefore the finish should be non-toxic. The bamboo boards are like hardwood in sheet form which means your panel saw blade needs to be extreme sharp! A CNC machine will need to be run at half rate and a beam saw will cut bamboo like butter.
Bamboo machines cleanly, sands beautifully and glues easily because it's so dense.
Weight
Leto Bamboo has a weight of 690kg per m3
Volatile Organic Compounds (VOC)
CETEC Emission Testing using ASTM D5116 rated LETO bamboo products at <0.05 mg/m2/hr, and < 0.5 mg/m3 (VOC).
According to GBCA Office Design V2 & V3 IEQ -13 a rating passes at <0.5 mg/m2/hr (VOC) – LETO bamboo rates at 1/10th of this amount!
According to GBCA Office Interiors V1.1 IEQ-11 a rating passes at <0.5 mg/m3/hr (VOC). Please see the test results from Cetec Laboratory.
Formaldehyde Emissions

CETEC Emission Testing at February 2009 used Test Method EN717-2 to determine Formaldehyde release by the Gas Analysis Method rated LETO Bamboo at 0.11 mg/m2 /hr.
This falls into the category of E1. Please contact us for a copy of these test results.
Glue: non-toxic for formaldehyde release: formaldehyde emission attained E1 standard requirement.
Spread of Flame
Please see the test results from Exova Warringtonfire Aus Pty Ltd.
Specifications
When specifying Sharp LETO Bamboo please include the following information:
| | |
| --- | --- |
| Colour | Natural or Carbonised |
| Sheet Size | 2500 x 1220mm |
| Thickness | 0.6mm |
| Texture / Style | Narrow Grain or Wide Grain |
Colour Range
| | |
| --- | --- |
| Narrow Grain - Natural Colour | Narrow Grain - Carbonised Colour |
| Wide Grain - Natural Colour | Wide Grain - Carbonised Colour |